NEED NEW CHECKS? NEED TO REORDER CHECKS? MANUAL, ONE-WRITE, 3-ON-A-PAGE THROUGH CONTINUOUS AND LASER OPTIONS, WE OFFER VIRTUALLY ANY BUSINESS RELATED STYLE CHECKS YOU MAY NEED.
PLEASE BROWSE THROUGH THE CHOICES PRESENTED HERE. IF YOU DO NOT SEE EXACTLY WHAT YOU WANT, CALL (800) 262-9828, WE'LL TELL YOU RIGHT OVER THE PHONE WHAT WE HAVE AVAILABLE THAT MAY NOT BE ON OUR WEBSITE.
WE DO WAREHOUSE, AT NO CHARGE, ANY ORDER THAT IS NOT A NEGOTIABLE DOCUMENT (INVOICES, FORMS, BASE STOCK).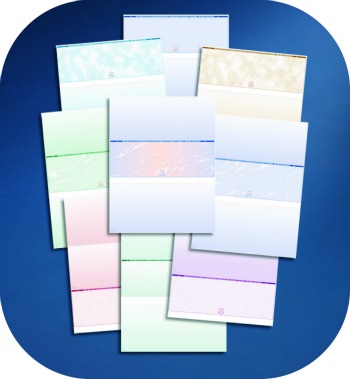 SELECT YOUR SOFTWARE VERSION, OR IF YOU DON'T SEE IT, WE CAN
PRODUCE YOUR CHECK OR FORM, JUST MAIL US A CLEAN, COMPLETE SAMPLE.
BLANK BASE STOCK IS AVAILABLE FROM 500 TO 100,000 OR MORE. WE CAN CREATE A BASE STOCK UNIQUE TO YOU WITH SPECIAL BACKGROUNDS, COLORS, AND ADDITIONAL SECURITY FEATURES NOT AVAILABLE THROUGH OR STOCK CHECKS.
SELF-MAILER CHECK AND CHECKS FOR SPECIALIZED EQUIPMENT ARE ALSO
AVAILABLE. WE SUGGEST YOU CALL US FOR ANY SPECIFIC NEEDS AND
A SERVICE REPRESENTATIVE WILL ADVISE YOUR BEST OPTIONS.
(800) 262-9828 E-MAIL: PLAINSITE@PLAINSITE.COM